Cedar Rapids Titans/River Kings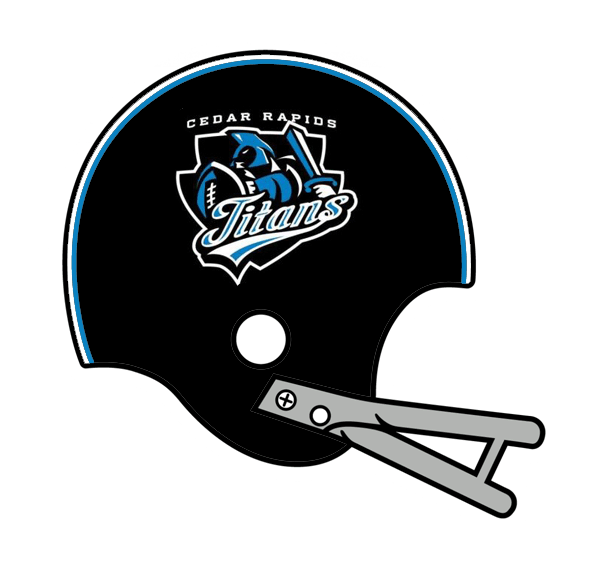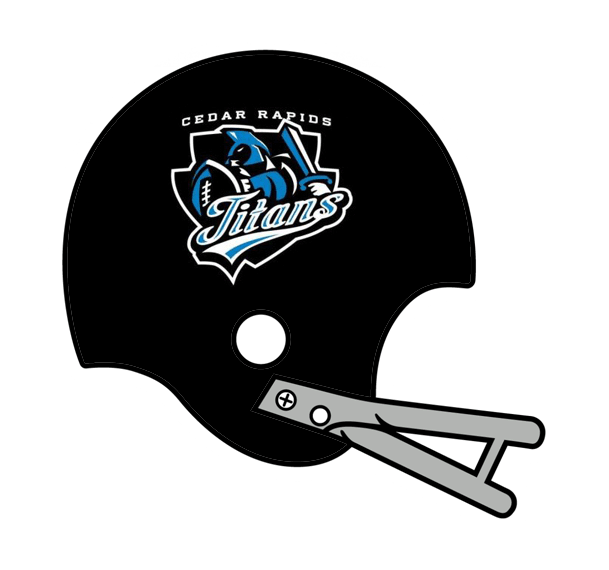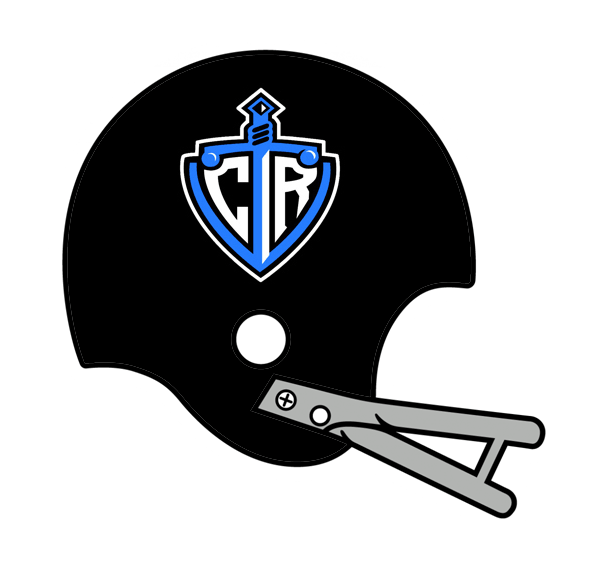 Years of Existence: 2012-2020
Venue: US Cellular Center(Cedar Rapids, IA)
Accomplishments
2012 -
2013 - Semifinal appearance
2014 - Semifinal appearance
2015 - Semifinal appearance
2016 - Semifinal appearance
2017 -
2018 -
2019 -
2020 -
Lifetime Record: 51-71
Home: 30-28
Away: 20-43
Playoffs: 1-5
Average Attendance:
The Cedar Rapids Titans were an IFL expansion team for 2012, going 4-10 on the season. Indoor football veteran Willie Copeland led the team at quarterback for half of the year, throwing for 660 yards, ten touchdowns and eight interceptions. Kenneth Black Jr. threw for 939 yards, 14 touchdowns and seven interceptions. T.J. Simmons picked off nine passes. The team defeated Lehigh Valley, Nebraska, Reading, and Chicago for its four home wins. The team returned in 2013 and went 9-5 on the season, defeating the likes of Green Bay, Chicago, and Texas several times. The team even defeated Sioux Falls by a 52-18 count during the regular season. The 2013 season was a great improvement for the Titans, as they went 9-5 and secured their first playoff berth in the United Conference. Two new quarterbacks split time at the helm this season: Charles McCullum and Colton Hansen. McCullum completed 57% of his passes, throwing for 1,350 yards 30 touchdowns and seven picks. Colton passed for 996 yards, 25 scores and eight interceptions. Their top target for the season was Carl Sims, who snagged 22 scores on 744 yards. Bryan Pray was neck and neck with him, picking up 720 yards and 17 touchdowns of his own. The Titans also got a lot of production in the run game between Laron Council (631 yards and 21 touchdowns) and QB McCullum (484 yards, 11 touchdowns). Xzavie Jackson racked up 14 sacks on the defense, while T.J. Simmons picked six passes. The team got out to a quick start, beating Chicago twice in close games, and then defeating Texas and Wyoming by 39 and 32 respectively. Then came a double overtime loss to Green Bay, who forced overtime on a 47 yard field goal as regulation time expired. The Titans then dropped a 50-45 decision to Chicago and 82-72 game against the Texas team they had clobbered a few weeks prior. The defense continued to struggle, as Tri-Cities dropped 70 on Cedar Rapids. Then came a drubbing of Sioux Falls, before Sioux Falls returned the favor via a 30-24 victory of their own. The Titans secured a playoff spot and traveled to Sioux Falls in the semifinal round. The Storm only led 27-20 after three but then shut out the Titans 17-0 in the fourth quarter to advance to the United Bowl. The Titans returned with another successful season in 2014, led by Spencer Ohm at quarterback. Ohm threw for 1,748 yards, 36 touchdowns and 12 picks. Carl Sims brought in 14 scores, while ten each went to Bryan Pray and Jefferson Hayes. Ohm and LaRon Council both ran for 15 scores. The Titans compiled an 11-3 regular season, defeating lower-level teams Green Bay, Texas, Bemidji, and Tri-Cities multiple times. In the final week of the regular season, with the Storm resting many players, Cedar Rapids defeated Sioux Falls 49-37. The two would meet again for the United Conference championship the following week. The Storm took a 42-7 halftime lead and never looked back. The Titans fell 73-36. Sam Durley led the 2015 Titans for the first nine games of the year, passing for 1,406 yards, 27 touchdowns and eight picks. Then, longtime indoor veteran Willie Copeland joined the roster and threw for 666 yards, 11 scores and two picks. Bryan Prey led all receivers with 14 scores and 673 yards on 49 catches. Washaun Ealey rand for 535 yards and 20 scores. Opponents converted 58% of fourth downs against Cedar Rapids, but the Titans put together another successful 9-5 regular season and earned a playoff berth. Unfortunately, it was another playoff berth against Sioux Falls. Two early field goals kept Cedar Rapids in it, but the Storm would allow just one more score on the night en rout to a 34-12 victory. The team returned in 2016, quarterbacked by Dylan Favre, who threw for 2,483, 50 touchdowns and 19 picks. Jared Elmore caught 20 of those touchdowns, while Ryan Balentine snagged 15 of his own. Waymon James ran for 14 scores and Favre ran for 18. The Titans lost two of their first three games, but finished the season winning twelve of the last fourteen for a 12-4 regular season record. The Titans lost just six fumbles on the entire season, while their defense made 18 interceptions and recovered 13 fumbles. Cedar Rapids' defense also racked up 44 sacks. The team then avenged a regular season loss to Wichita Falls with a 66-36 drubbing and another meeting with the Sioux Falls Storm in the postseason. The game was tight in the first half, but Sioux Falls rolled to a 54-28 victory behind three interceptions of Favre. Brion Carnes quarterbacked the 2017 Titans, who for the first time since their inaugural 2012 season, failed to make the playoffs. Carnes threw for 2,760 yards, 55 touchdowns and 24 interceptions, with Damond Powell hauling in 22 scores and 1,052 yards on 75 catches. Tre' Parmalee brought in 15 scores, as well. Defensively, the Titans only picked off ten passes all year and returned one for a score, vs having six returned against the team for touchdowns. The defensive also allowed 44 rushing scores, with an offense that only ran eleven in. As a result, Cedar Rapids had its worst year, going 1-15, averaging just 30 points per game and the lone victory came on the road at Green Bay 41-37. Through their first seven home games, the most points the Titans scored was 32 against Arizona, losing 34-32. Jake Medlock quarterbacked the Titans in the 2018 season, passing for 2,613 yards, 47 touchdowns and eight picks. Connor Hollenbeck, Javon Bell, and Marquel Wade combined to catch 39 of those scores and over 1,600 yards. Medlock also led all rushers with twelve touchdowns on the 3-11 season. Cedar Rapids provided plenty of entertainment, however, dropping an 84-83 decision at Arizona in which they led 83-71 with four minutes left. In that game, Arizona did not have a pssing touchdown, either and was forced to rely on Darrell Monroe to run it in eleven times. The team rebranded as the River Kings for 2019 and went 1-13. The team played in one of two games of the 2020 season prior to the COVID-19 pandemic and also lost this game to Quad Cities. The team then folded for good.